High Performance LED Helmet Lights From Oxbow Gear
Discover the ultimate lighting solution for your extreme outdoor sports with Oxbow Gear's high-performance helmet lights. Designed specifically for adrenaline-fueled activities such as mountain biking, snowmobiling, dirt biking, snowboarding, and skiing, our helmet lights are here to accelerate your nighttime adventures. We present to you two exceptional models: the Voyager and the Maverick. Both helmet lights carry impressive features tailored to meet the demands of backcountry night riders. Meet the perfect lighting companion for your extreme outdoor pursuits.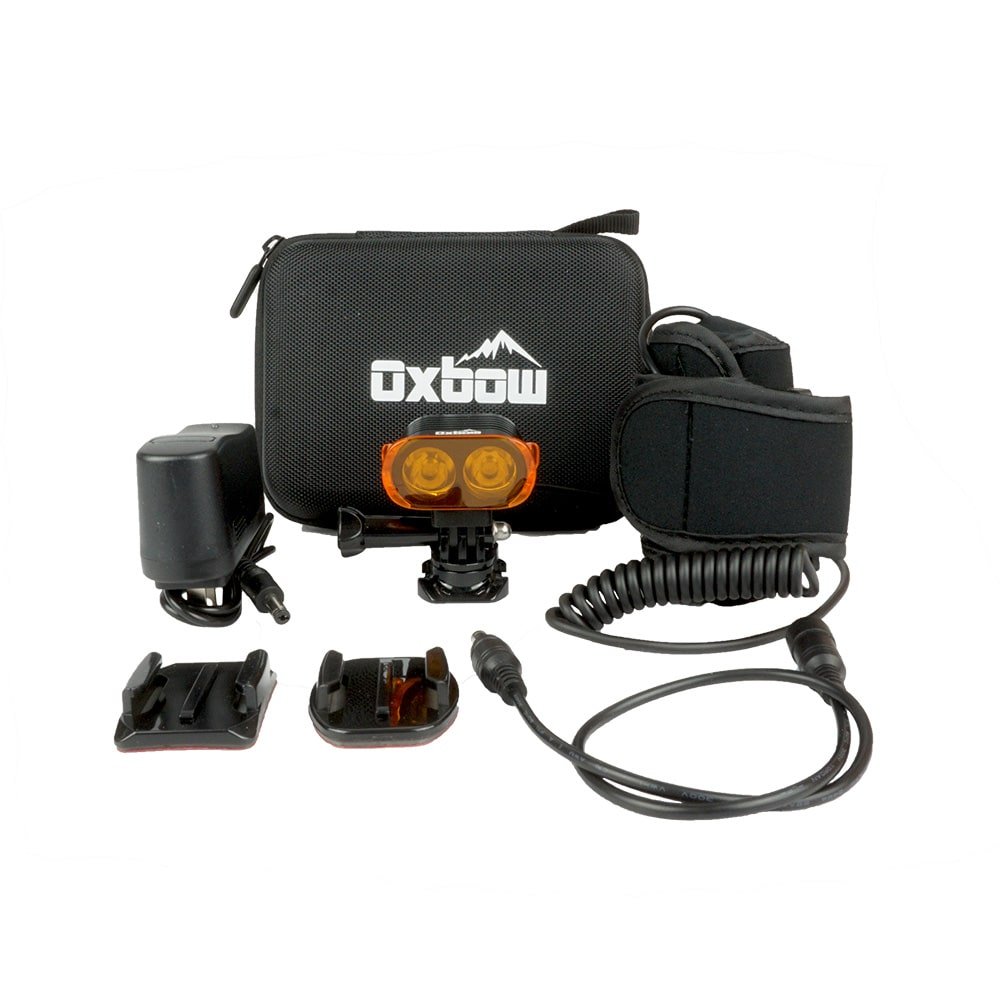 Helmet Lights – A Night Riding Necessity 
Nighttime brings its own set of challenges to extreme outdoor sports, but with Oxbow Gear helmet lights, you can conquer the darkness and elevate your riding experience. Our helmet lights are meticulously engineered to enhance safety, visibility, and overall enjoyment during your nocturnal adventures. Whether you're dirt biking, snowboarding, or exploring rugged terrain on an ATV, Oxbow Gear's helmet lights are your ultimate ally.
Outperforming traditional headlights, our helmet lights illuminate your surroundings with a wide and even beam pattern, allowing you to confidently navigate even the most treacherous paths. Say goodbye to the "tunnel vision" effect that plagues competitor lights and embrace the clarity that comes with superior peripheral vision and depth perception.
Suitable for a range of extreme sports, Oxbow Gear helmet lights cater to the needs of dedicated night riders across disciplines. Experience the difference for yourself, and transform your nighttime escapades into unforgettable adventures.
Choose Your Riding Companion: Voyager vs Maverick Features
Finding the right helmet light for your specific needs is essential to maximize your night riding experience. Let's explore the key features and differences between Oxbow Gear's Voyager and Maverick helmet lights, so you can choose the perfect riding companion for your outdoor pursuits.
The Voyager:
Ultra-lightweight at 2.1 ounces

Incredibly bright with over 3 hours of full-power runtime

Wide, even beam pattern to prevent tunnel vision

GoPro mounting system for versatile positioning

Waterproof battery with insulated neoprene pouch

Three power settings: low, medium, and high

Ideal for dirt biking, snow biking, snowmobiling, ATV's, skiing, enduro riding, and more
The Maverick:
Compact and powerful, measuring 4″ in length and weighing 4.2 ounces

Impressive 1000 lumen output

High-quality lens producing a smooth, even beam pattern

GoPro mounts for easy installation

Four power modes: high, medium, low, and strobe

Designed to enhance your night riding adventure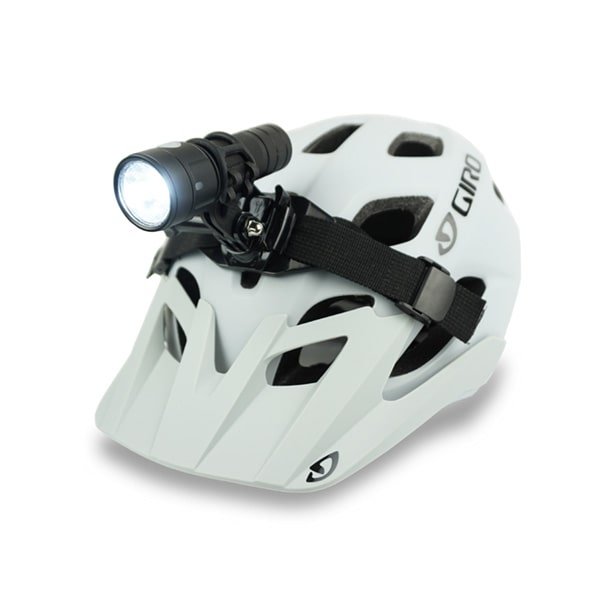 Both helmet lights offer unique advantages, so consider your specific requirements and preferences when selecting the ideal Oxbow Gear helmet light to illuminate your extreme outdoor adventures.
Why Helmet Lights Elevate Your Night Riding Experience
While traditional headlights can provide some visibility during night rides, helmet lights offer a game-changing advantage that significantly improves your overall experience. When you choose a helmet light, you gain the ability to see around corners and obstacles, even when a headlight might be shining off the trail. This increased visibility empowers you to ride with confidence, knowing you can anticipate and react to upcoming terrain.
Combining a helmet light with a headlight delivers the best of both worlds: the headlight illuminates the immediate path in front of your bike, while the helmet light takes in the broader scene ahead. This dual-light setup provides enhanced peripheral vision and allows you to better understand the terrain you're riding over.
Investing in a high-quality helmet light, like the Voyager or Maverick from Oxbow Gear, can make all the difference in your comfort and performance during nighttime adventures. Experience the thrill of extreme outdoor sports under the stars, with the peace of mind that comes from superior visibility and control.
Beam Pattern and Visibility: Oxbow Gear's Commitment to Quality
At Oxbow Gear, we understand that a helmet light's beam pattern plays a crucial role in your night riding experience. That's why we've engineered our Voyager and Maverick helmet lights to produce smooth, even beam patterns that maximize efficiency and comfort while minimizing tunnel vision.
Unlike competitor lights that often create a tight spotlight pattern, our helmet lights are designed to offer superior peripheral vision and depth perception. This enhanced visibility not only ensures a safer ride, but also allows you to fully immerse yourself in your nighttime adventure without feeling restricted or disoriented.
Our commitment to quality extends beyond the beam pattern to the overall design and construction of our helmet lights. By choosing Oxbow Gear, you're investing in a product that will withstand the test of time and the rigors of your extreme outdoor sports. Experience the difference for yourself, and let Oxbow Gear illuminate your path to adventure.
GoPro Compatible Mounting System: Versatility for Every Adventure
One of the standout features of Oxbow Gear's helmet lights is their compatibility with the GoPro mounting system. This versatile design allows you to easily mount the light anywhere you desire, such as on your helmet, handlebars, number plate, or other locations, depending on your specific needs and preferences.
The GoPro compatible mounting system not only simplifies the installation process but also ensures that your helmet light stays securely in place during your extreme outdoor sports. With this easy-to-use system, you can quickly and confidently prepare your gear for your nighttime adventures, knowing that your light will remain stable throughout your ride.
Oxbow Gear's commitment to versatility extends to the functionality of our helmet lights, ensuring they can be utilized across a wide range of sports and activities. Whether you're mountain biking, skiing, or tackling the toughest enduro trails, our helmet lights adapt to your needs and keep you illuminated every step of the way.
Built Tough: Rugged Construction for Extreme Outdoor Sports
When you're engaging in extreme outdoor sports, you need equipment that can keep up with your adventurous spirit. Oxbow Gear's helmet lights are designed with rugged construction to withstand the harsh environments and challenges that come with dirt biking, snowmobiling, and other intense activities.
Our Voyager helmet light features innovative temperature sensor technology that automatically adjusts the light's brightness based on airflow, ensuring optimal performance and preventing overheating. This smart design not only prolongs the life of the light but also maintains its lightweight properties, reducing strain on your neck during extended rides.
With their durable build, both the Voyager and Maverick helmet lights are built to endure the toughest conditions while providing you with consistent, reliable illumination. Trust Oxbow Gear to light up your path as you push the limits of your outdoor adventures. Experience the resilience and dependability of our helmet lights for yourself, and tackle your nighttime escapades with confidence.